Sales Educational Events
---
3 Crucial Components of Onboarding New Sales Hires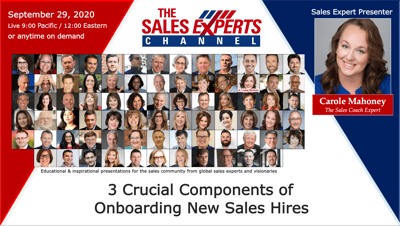 Your new sales people are eager to get started, but maybe not as much as you are ready for them to ramp up, right? Or perhaps your existing team has been through so many changes and challenges lately- everything seems new and it's time for a reset.
Join me for this live webinar for some science, some humor, and plenty of actionable tips and strategic insights in this interactive webinar where we will cover:
Why onboarding programs fail
3 crucial components of a successful onboarding program
What an onboarding schedule looks like
And more!
Date: September 29th, 2020
Time: 12 Noon EST
Duration: 1 Hour
---
LinkedIn LIVE with Viveka von Rosen & guest host, Carole Mahoney

On Friday October 9th, Carole will be joining Viveka von Rosen on her #LinkedInLive series!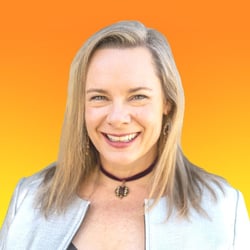 For thirty minutes, Carole and Viveka will be discussing what a cognitive behavioral approach to sales performance looks like, why this method is so important now, and the types of results that are possible using this approach.
To be notified when the event goes live, make sure that you are following Viveka Von Rosen on LinkedIn! Click here to do so.
Date: October 9th, 2020
Time: 11:30 EST
Duration: 30 minutes
---
How a Cognitive Behavioral Approach to Sales Coaching Transforms Teams
How are you helping your team to develop the behavioral changes that make sales training investments pay off? How are you motivating them so everyone can reach their goals? With everything happening in the world, even the most experienced sales leaders are struggling with this.
Join this session with Carole Mahoney to learn how she has helped sellers and managers transform into consistent revenue generators. You will learn what a cognitive behavioral approach is, what it looks like, and why it is so important today.
You will also discover:
3 crucial steps to get sellers and managers to engage in training and coaching with enthusiasm
What it takes to help your sellers and managers to apply what they are learning & some pitfalls to avoid
3 common cognitive issues that sellers and managers struggle with & how to overcome them
Date: October 13th, 2020
Time: 12 Noon EST
Duration: 45 mins
---
What Sales Can Learn From Series
As Otto von Bismarck said, "Only a fool learns from his own mistakes. The wise man learns from the mistakes of others."
Drawing inspiration from this quote, for season two of the What Sales Can Learn From Series, I will be talking with today's most successful sales leaders but I won't be asking them to put their best foot forward. Instead, I will be asking them to discuss where they messed up and what they learned from their mistakes.
Once a month, join me on The Sales Experts Channel for season two of this series!
Stay tuned to learn more about the next session!