Sales Educational Events
What Sales Can Learn From Series
As Otto von Bismarck said, "Only a fool learns from his own mistakes. The wise man learns from the mistakes of others."
Drawing inspiration from this quote, for season two of the What Sales Can Learn From Series, I will be talking with today's most successful sales leaders but I won't be asking them to put their best foot forward. Instead, I will be asking them to discuss where they messed up and what they learned from their mistakes.
Once a month, join me on The Sales Experts Channel for season two of this series!
Stay tuned to learn about our next session!
---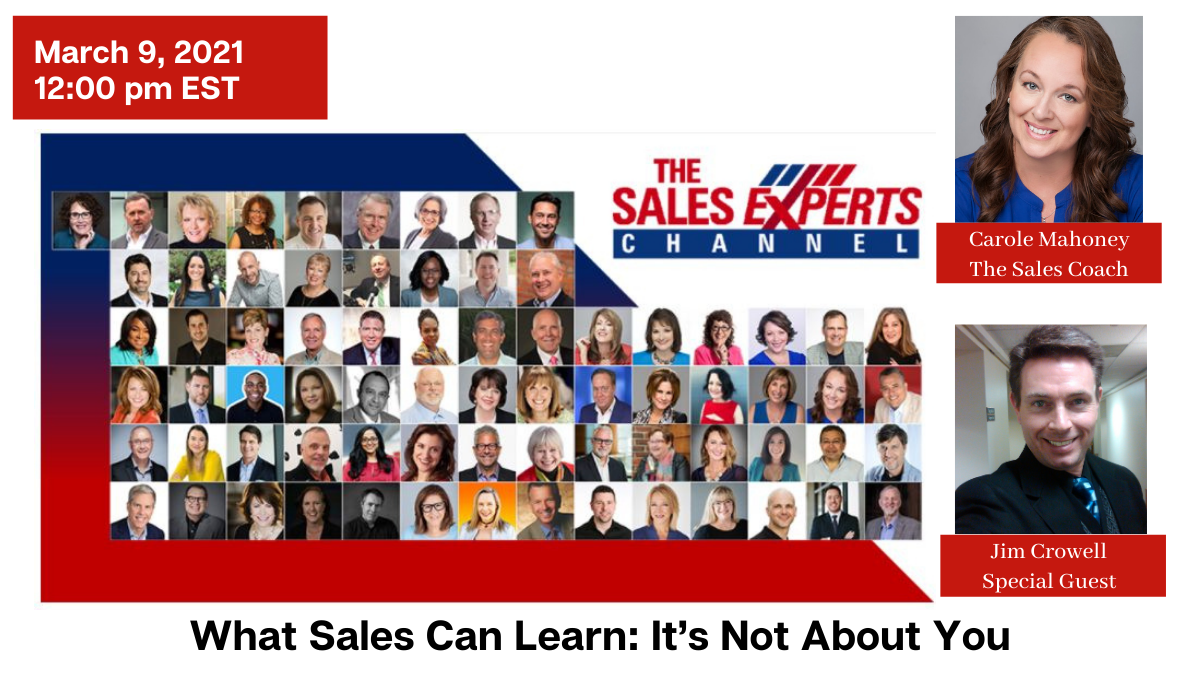 It's Not About You
Do your sellers jump to demo too quickly? Or spend the majority of their calls doing the talking?
Have you considered the impact you have as a leader when you are (or are not) other focused?
Join Carole Mahoney and guest expert Robin Dreeke, as they dig into the behavioral science of building trust, the impact it has as leaders, and how to build trust with your teams virtually.

Details:
Date: March 9, 2021 Time: Noon EST
Online Event
---

Revenue Collective workshop series
Where have all the good sellers gone?
Your new sales people are eager to get started, but maybe not as much as you are ready for them to ramp up, right?

Or perhaps your existing team has been through so many changes and challenges lately- everything seems new and it's time for a reset.

Join Carole Mahoney for some science, some humor, and plenty of actionable tips and strategic insights in this interactive webinar where we will cover:

-Why onboarding programs fail
-3 crucial components of a successful onboarding program
-What an onboarding schedule looks like

Join us with Carole Mahoney of Unbound Growth, for the second of a 3-part series on how to hire, onboard and ensure the long term success of your next sales hire.
Details:
Date: March 12, 2021 Time: Noon EST
Online Event