The internet is full of tricks, tips, and templates on how to write sales emails, but how do you know which ones are any good?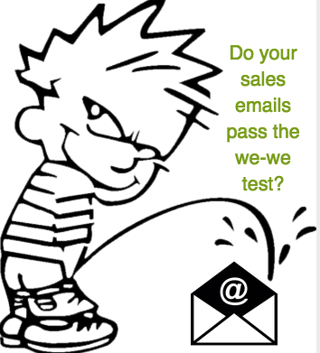 Here are some real examples of actual sentences in sales emails and also some I pulled directly from templates.
"I wanted to contact you and your agency to introduce our software and our partner program."
"I want to personally invite you to schedule a live demo..."

"I thought you might find this video-on-demand series of interest."
"I wanted to check if you are in the practice of purchasing marketing lists."
"I look forward to interacting with you further."

"I decided to contact you because I read your tweets and thought that you might be someone who would be interested in new technologies and apps."
"I hope you are the right person to discuss about this in your company?"

"I wanted to take a few minutes from you today to mention how "hosted" video conferencing is changing real time collaboration."

"While I have you, I thought you might find some interest in our work with [client]."
"I'd like to schedule a short call to determine fit. Do you have 15 minutes to talk Thursday or Friday?"

Spot the pattern? Is the focus on the customer or on you?
Did your best clients buy from you because you used the best template, or is it because you had a real human exchange and genuinely understood and solved their problem, and were able to answer these questions?
So why are some salespeople still seeking out templates?
Maybe some salespeople are seeking out templates because they fall into the 25%? Maybe they are at the bottom of the 69% and don't exactly know the path to improve? But is it their vernacular or their mindset that's the problem?
Do you know if your emails would pass the we-we test? Send it to us and we will send you back suggestions on how to change it.