The Smarketing VARs wager to Hubspot
Most people who know me, know that I am serious and passionate about sales, marketing and business development. I truly believe that when business is done right, and the customer relationship is put first, it can change the world.
They also know I like to have fun, a lot of fun. After all, as a much wiser person told me (and reminds me) if you are not having fun, you are doing something wrong.
So after several months of number crunching to finalize MiM's 2012 growth goal, I was left feeling a little drained. It wasn't enough, something was missing.
Granted- doubling revenue in a 5 year old start-up company for the past 3 years, in the worst recession since the Great Depression, is nothing to shake a stick at. (pat, pat, pat...)
And it's not that the money doesn't matter, it does- but for me, it only matters as much as what it represents and can accomplish. Numbers without emotion behind them mean nothing. There was the missing metric from my growth plans, and really what would tell me whether or not we are on track and true to our mission.
So how does one measure intent?
Thankfully, HubSpot made my job a little bit easier -again- and filled in the blank for me. That missing metric is called CHI, or customer happiness index.
Long story slightly shorter, CHI and MiM means this for our clients:
Increased Monthly

Website

Visits

Top 10% Visit-to-Lead Ratio




High Quality Monthly Leads




Top 10% Lead-to-Customer Ratio

New Business Won
Why Does Our Clients CHI Matter So Much to Me?
I will try not to get you all teary eyed and sentimental, but I make no promises.
Like many parents, I never imagined how much life would change when I had kids. Similarly, when I started my business, I never imagined how much it would take over my life.
Lately I have realized how all of my major life experiences have a connection to each other, from having my kids, to marrying my husband, to starting my business. And that realization came from a recent and recurring "discussion" with my authority-questioning 16 year old son.
Question: "You tell me-why should I go to school for another 4- 8 years, go into major debt if there are no jobs available for me when I get out? Read the news mom, Steve Jobs didn't finish school..."
In my mind, that rebellious question and the 11 o'clock news cemented my personal mission.
Answer: Help like-minded business leaders develop the companies that will be the pioneers of a new economy and provide good jobs for my kids today and my grandkids tomorrow.
How does CHI measure my mission? CHI= results. Results=growth. Growth=jobs. Jobs=a better quality of life.

A Smarketing Wager and...a Dare
So you have read the serious and the passionate. Now for the fun.
Like me, HubSpot is also a serious, passionate and fun group. (It would seem that the stars have aligned and I have found my perfect technology match.)
Every fall they have their annual HubSpot User Group Summit. Partners, customers, fans (even critics) meet to discuss and learn the latest inbound technology developments, techniques and data. (ohhhh, the data....)
Last year, the infamous Repcor (as she is known in HubSpot halls) performed live with other uber- talented HubSpotters their Inbound Marketing Song.
Here comes the fun stuff.
I Hereby Double-Dog Dare Brian Halligan and Dharmesh Shah
The Hubspot 2012 VAR Challenge
If we, (and the VARs who comment on this post), get highest average CHI for our agency tier level (my goal is Platinum), I dare you to perform, in whatever capacity, this Hall & Oates Song.
Brian as Hall, Dharmesh as Oates- lipsyncing live onstage at HUG2012. (readers-this 80's retro dare is especially grueling for Halligan- a well known Deadhead).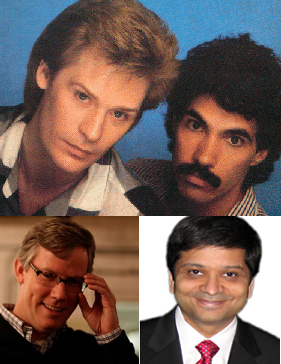 Priceless.
Why this song? Let's just say that Hubspot's Enterprise Analytics is one of the keys in the lock to making CHI happen for my clients.
The Smarketing Wager
I am willing to bet (what- I don't know yet) that if you join us and our fellow smarketing pioneers for our next quarterly Smarketing Course, you will change your business. And maybe your life.
It is that simply powerful. Do you dare to dream big? Are you brave enough to do it?
It's not just business as usual anymore, this is personal.