Can Smarketing Hold up to Real ROI?
Is smarketing more than a 'that's interesting' concept?
Just as I was graduating college, I read a book that would change my perspective on marketing. "Waiting for Your Cat to Bark" was where I first learned about the concept of smarketing. In it smarketing is described as the times and places where sales and marketing collide.
In short, Chapter 9 of the book described how customers buy when the efforts of marketing and sales overlap and both are tuned in and reinforce each other. The customer experience is one where the message matches the experience. Customer retention is more efficient and measurable.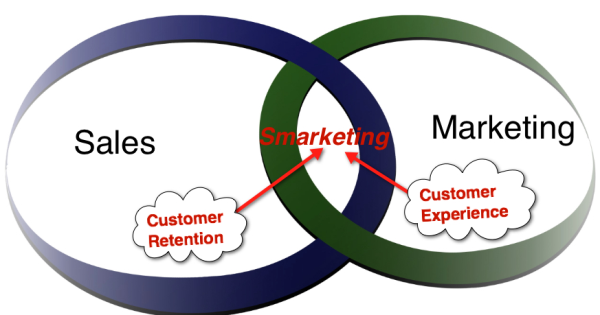 The simple Venn diagram in the book "Waiting for Your Cat to Bark" is what later inspired the MiM logo.
From Smarketing Concept to a Repeatable Process
The concept of sales and marketing alignment is one that most sales and marketing professionals can grasp. Of course we have to work together! But when it comes to actual collaboration and process optimization, many are not sure where to start or how to actually put the concept into practice in their organizations.
The 12 Step Smarketing Process for Business Development
Evaluation. Does the sales team have the capabilities to maintain the pipeline and close business? Does marketing have the technology and talent needed to craft the right message at the right time for the right people? The evaluation step identifies your strengths, weaknesses, opportunities for improvement and threats to success. A smarketing S.W.O.T. analysis will identify the holes in your funnel and process before you waste any resources on filling it.
Strategy. Why does there always seem to be enough time to do it over, but never enough to do it right in the first place? Do you really know; who your customer is, what their perspective of you is, how they want to buy, and where do will you find them? A smarketing strategy should include; your benchmark ROI numbers, buyer persona modes, marketing strategy, and sales process. All these (and more) come together into your smarketing process.
Funnel. How and where do you coordinate digital and traditional lead generation tactics? What are the short term vs. long term results? How will sales and marketing execute the hand off so that the customer doesn't realize it? Here is where you create your smarketing funnel that will be the guide for your collaboration.
Approach. Marketing learns from sales what is important to the prospect. Sales learns from marketing what the interest and motivation to convert is. Both align and mirror their approaches to match the buyer's preferred behavior so that the buyer drives the process, not the business. For the B2C company, points of assurance
Appointments. How many are needed? With whom? What is posturing and who is doing it? Do you know why they want to buy? If you are B2C company, how many product views do you need? How many shopping cart adds? How can sales use marketing analytics to impact the conversions or start conversations?
Matches. Is the buyer's personal & rational needs, their timeline for a decision a mutual fit for the business? What are the consequences if the prospect does nothing? What is their process for learning and buying? Is this the best product choice for them? How does it compare to their other options?
Qualifying. Where is the buyer in the their process at the time of conversion? How will sales determine commitment, timeline, budget, and their decision making process? What can sales feed back to marketing to better qualify future leads?
Objections. What objections does sale encounter during the process? How do they eliminate them? How can that information be used in marketing assets such as blogs, or a lead nurturing campaign?
Buying. How does the prospect normally buy your product or service? Do they want to buy from you? Is the price right? Is your solution the only option they are considering?
Closing. What points of assurance can marketing reinforce for sales to help close? How does sales present the solution to the buyer?

Evangelists. Always be selling. Especially after you have won the customer. The ultimate purpose behind aligning sales and marketing with a smarketing process is to create a customer experience that they will brag to their friends about.

Growth. How will you maintain and grow the relationship with the customer? Whether you are a B2B company or a B2C customer, it is still less expensive to keep and maintain a current customer then it is to attain a new one. Attrition rates should be low with a successful smarketing process.
From Smarketing Process to Sales and Marketing Optimization Practice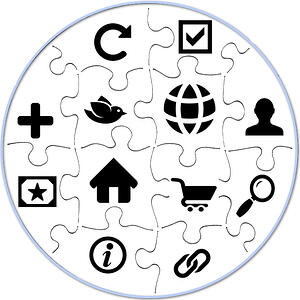 The first, and perhaps best, success story for smarketing actually comes from one of our most prominent partners.
Case studies and articles have been written about HubSpot's unusual practice of putting sales and marketing together. Side by side, desk to desk. Mark Roberge, the VP of Sales, and Mike Volpe, CMO, matched and mirrored each other's effort in the early days of the company.
If a 6000% revenue increase over 4 years doesn't convince you of ROI, then nothing will.
Are you looking for something real in all the promises of year end pipeline growth, or 2012 promises? Are you tired yet of the promissory emails proclaiming to fill your pipelines?
Join us for our next smarketing webinar as we explore each of the steps of the smarketing process as part of our upcoming Smarketing Business Development Course.
Or if you are in the Portland, ME area on Dec 28. then join us for our last HUGMEtoo meetup of 2011. It promises to be a lively discussion with Mark Roberge of HubSpot.
Not in the Portland area? No worries, register for the live streaming webinar to be in on the action from where ever you are.
Conservative companies rarely make case studies. Are you a smarketing pioneer in the making?