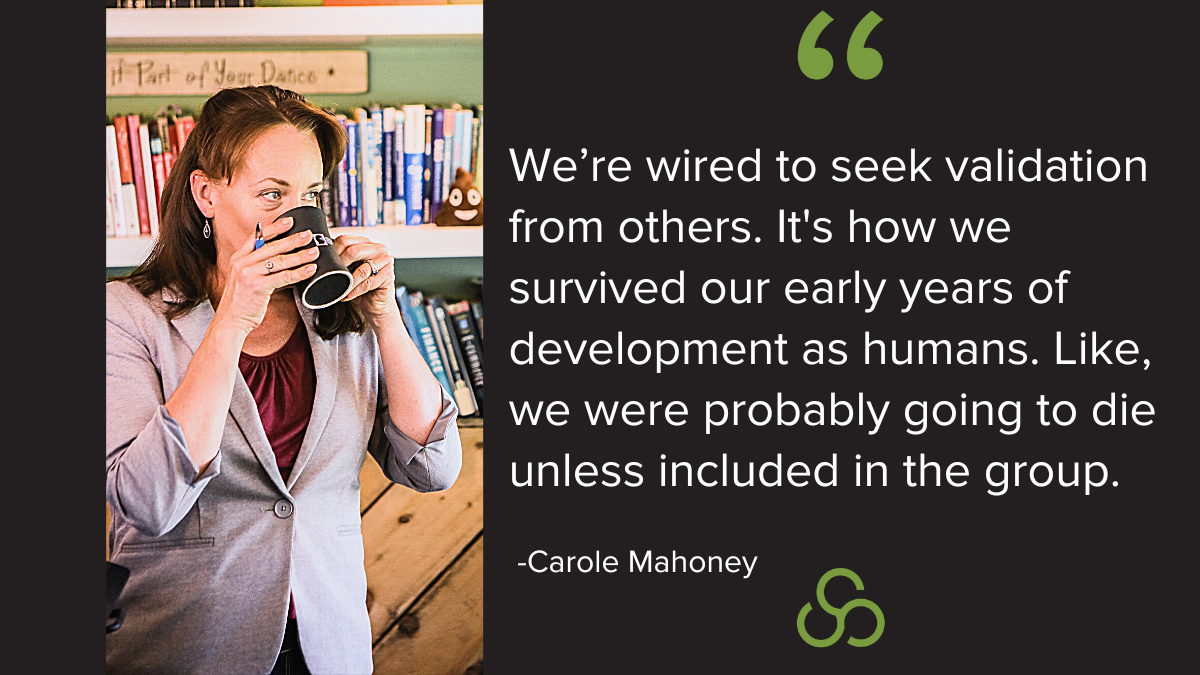 I measure for several attributes and look for how to test, measure, coach, and train. It starts with mindsets. Then goes into attitudes and beliefs I know are necessary for you to be an authentic #buyerfirst seller.
So here are the top three skills it takes to be a #buyerfirst seller:
---
First, we must control our need for approval.
We're wired to seek validation from others. It's how we survived our early years of development as humans. Like, we were probably going to die unless included in the group.
---

When we were children and did something new, we looked to our parents for approval that we were doing the right things. But it gets in our way when we're trying to sell or asking tough questions.

---
We cannot ask tough questions because we want people to see us in a certain way. Therefore, we tell people what they want to hear. So, when we seek the approval of others, our values are no longer in alignment, and we come off as inauthentic and nontransparent.
According to data from the Objective Management Group, sixty percent of sellers struggle with the need for approval. When we work with that need for support, we're not going to ask the tough questions.
Consequently, our buyers will lose trust in us. You lose awareness of what's important to you, what drives you, and what makes you happy when you let other people dictate or influence the following:
How you make your decisions
Your opinions
How you spend your time
So, we do things that don't align with our values and create cognitive dissonance. And we don't come off well at all.
---
Be collaborative
Another necessary mindset for us to be #buyerfirst as far as the skill set goes is how to be collaborative. Avoid getting wrapped up in your heads when a buyer asks an unexpected question, which leads to our talking to ourselves or scrambling to come up with what we think is the correct answer.
Perhaps our buyer expressed interest, and we get excited that they will buy. We jump into talking about our offering. When that happens, and it likely will, it makes it nearly impossible for us to be in the present moment or somewhere else.
---

Have you ever tried to have a conversation with a teenager while they're texting? That's how your buyers feel when you're not being present in the moment.

---
Managing our emotions
It shouldn't be a surprise that Sixty-three percent of sellers struggle to manage their emotions while selling with buyers. By the way, remember the #buyerfirst survey: Active listening is the number one thing buyers want in sellers.
Suppose we're not managing our emotions at the moment, as our buyer says. In that case, they have a problem we can solve or that they're the decision maker or that the solution they just said they loved is now too expensive and they're going to shop our biggest competitor. We get excited and anxious, and we're in our heads, struggling to think about:
What to say
What to do
How to get them to buy from us
We're out of the moment. And the opportunity to be present for active listening and asking the right questions to understand more is lost.
These mindsets impact the critical skill set needed to be a #buyerfirst seller and the ability to listen and ask questions. We can't do that if we're in our heads or struggling to think what to say so they'll like us.
---
JOIN ME, CAROLE MAHONEY, AUTHOR OF THE UPCOMING BOOK "BUYER FIRST: HOW TO SELL THE WAY PEOPLE BUY," ON THE 3RD TUESDAY OF EVERY MONTH AT NOON ET & ASK ME ANYTHING ABOUT HOW TO:
Shift our mindsets

Develop the skillsets

And align how we sell with buyers