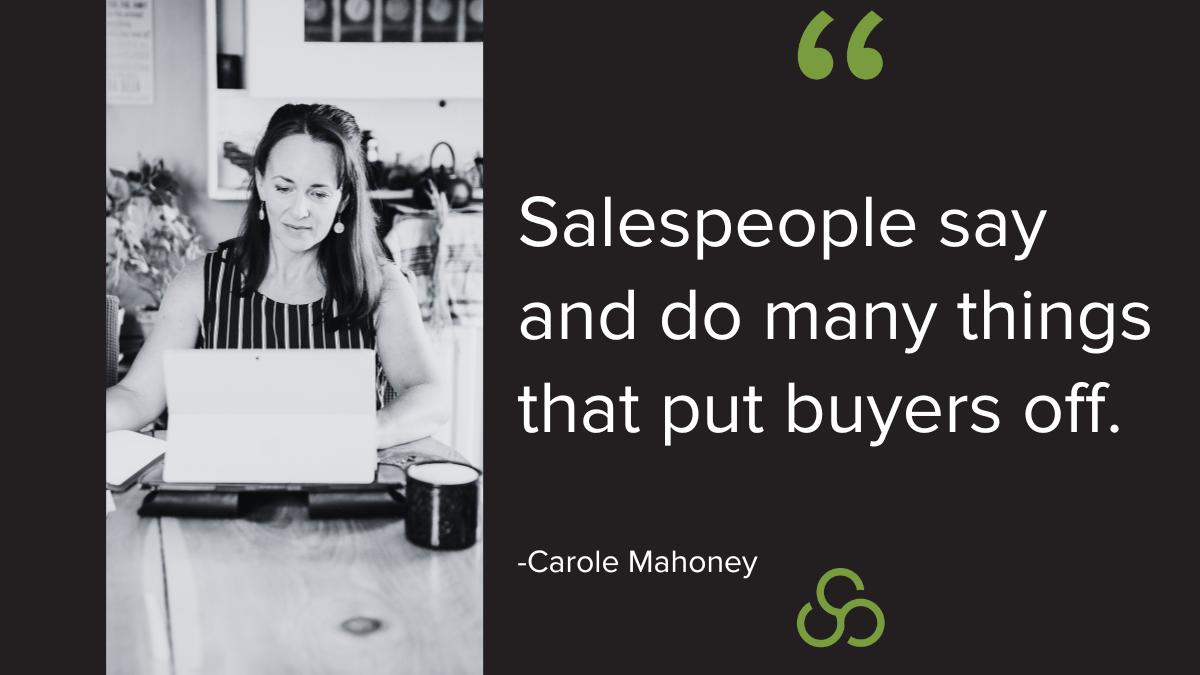 What are some of the most common things salespeople say and do that turn off their buyers? And what's really happening inside your buyer's mind when you do and say them?
Salespeople say and do many things that put buyers off. Do you know what the most common ones are?
Here is one minute inside a buyer's mind:
Seller: Oh, what needs to happen to get you signed up today?
Buyer: Well, I need to give this some more thought. You give me a lot of great things to think about.
[Buyer's mind:] I have no intention of buying this today. I'll wait and see if I can find it at a lower price, for I understand that.
---
---
Oooh, a break on the price!
Seller: What if I could offer you a break on the price?
[Buyer's mind:] Oh, really? Yeah. Whatever it is, I'm still holding out.
Seller: Honestly, I would love to see you as an Acme company customer. If I get you a twenty percent discount, would you be able to sign up today?
[Buyer's mind:] Yeah, I bet you would. It's the end of the month. I don't know.
Buyer: I still need to see if there's some budget for it. Why don't I check into that, and you can send me an email with the details?
[Buyer's mind:] You can do better than twenty percent. Look for about the fifth meal email I ignore. They'll be offering me a bigger discount. Whatever I gotta do to get you off the phone.
---
JOIN ME, CAROLE MAHONEY, AUTHOR OF THE UPCOMING BOOK "BUYER FIRST: HOW TO SELL THE WAY PEOPLE BUY," ON THE 3RD TUESDAY OF EVERY MONTH AT NOON ET & ASK ME ANYTHING ABOUT HOW TO:
Shift our mindsets

Develop the skillsets

And align how we sell with buyers