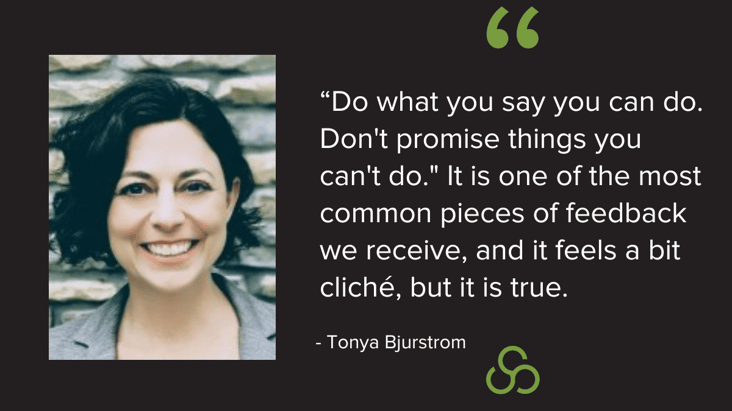 Tonya Bjurstrom from Dirby Solutions joined me for my July #BuyerFirst Ask Me Anything. Tonya and I have gotten into many conversations (both on the phone and on social media) about being #BuyerFirst.
And if there was one person I wanted to bring on, it was Tnyoa! Because she is known as the voice of the customer for B2B. She delivers insights to clients that they need to grow their revenue and customer retention, which seems to be the day's name today. Here are some insights we shared during our conversation:
What about the buying experience is most important to customers in the future?
I mean, there's this transparency I'm hearing:
---

"Do what you say you can do. Don't promise things you can't do." It is one of the most common pieces of feedback we receive, and it feels a bit cliché, but it is true.

---
Customers believe they are honestly being heard and that their vendor partner is doing everything that they can to act on delivering what they need. It doesn't mean it has to be delivered.
We can't give it to you, but this is how we can address the solution that is often just shy of being as valuable as delivering it. So that through all the industries, interviews, the sizes of customers, and the different types of products. That seems to be the most common feedback that we hear.
When we say we want to be heard, it's at an individual level. For one person, how they feel listened to versus another person might be a little different. But we also have to ensure we're doing that with each person involved in the buying process. So everyone feels that we've listened to their concerns and their questions. As well as everybody as a whole because we have many people involved in the decision-making process.
We tend to only pay attention to the one person with the ultimate buying authority.
Theirs is the opinion that only matters. And that's how sometimes our other buyers feel ignored. And so, when people change roles or move up in the organization, they still remember that we forgot them.
And you know, how often is it that the person who has made the buying decision is not the person moving forward with managing the product or service you're delivering?
It's common. So make sure that you truly have a grasp on everyone that's involved. Each of those individual needs is not just a cumulative need.
How many different people are involved in the buying process?
I think I last heard was between five and seven, up to 12, depending on the organization. Yeah. It's a lot to juggle. But it is what sales is today.
Yes. Get good at hurting cats. And I even find myself in this situation. I have a client I'm working with where the sales leader brought in one of our solutions and excluded some of the people whom this would impact.
And even though I asked, "Hey, what are their thoughts"? --Oh, no, they'll do whatever we tell them to. It turns out that wasn't precisely true. And now I have to deal with someone who felt like this blindsided them. They don't know what's going on. Because the person making the buying decision didn't include them, you know, sometimes it's our fault.
Sometimes it's the buyer, but we must ensure we're asking those questions, getting everybody involved. What do you think are some of the best ways? Let me ask this question in reverse: what are some of the things you see sellers do that make buyers feel ignored?
---

One of the things is sticking to the script. This goes back to ensuring that you genuinely understand why buyers buy from you. Right?

---
If your deliverable materials and the market messaging are out of line with why most of your buyers buy from you, you've got an extra challenge right out the gate. Before you even get any momentum in that buying process, you already have to address the fact that you are not communicating well with your buyers.
One of the essential things is doing the work to ensure that you understand why your ideal customers buy from you right out the gate. Make sure your message resonates and don't make assumptions. Or assume they know this or need it because it's a no-brainer.
Don't assume anything because you know the old saying, "When you assume, you make a you-know-what out of you and me."
---
FIND OUT WHY OTHERS HAVE SAID THINGS LIKE:
💬"...written with bravery about topics that need to be discussed more often."
💬"...love this honest post - I have shared it with my whole team."
💬"...this is spot on and much needed!"
SIGN UP AND YOU'LL BE THE FIRST TO GET IN ON THESE INSIGHTS BEFORE ANYBODY ELSE!