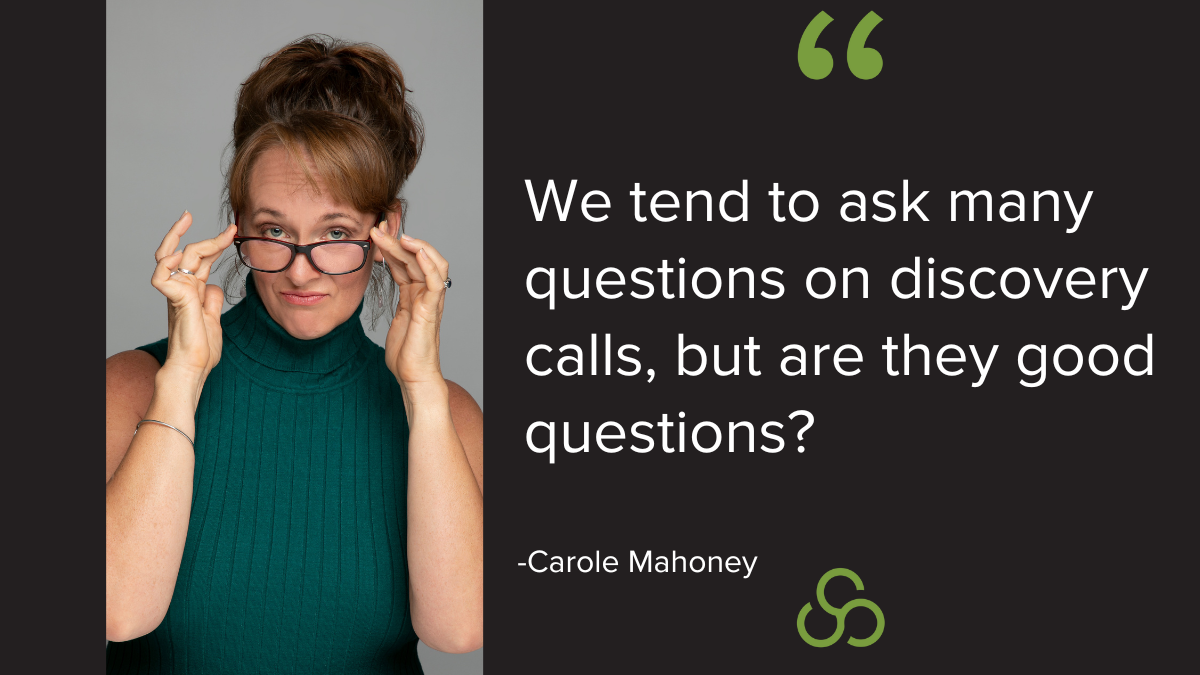 Everyone wants to improve discovery calls, which I love because I often say that the close starts when you say hello. In fact, it begins a lot sooner than that when you consider how much research buyers are doing online.
But as far as your first interaction as a seller with a buyer, how do you have that better discovery conversation?
I could write a book on this question. Oh wait, I already did!
---
So let's say you're selling marketing automation software, and your buyer says, "I want to see about your email automation. And then, I want to talk about the APIs". --Ask a few questions like, "So I understand you want to talk about these particular things. Let's start with marketing automation. What's making that so crucial for you right now?"
As they answer the question, bring it up on your screen to show them that one piece.
And when they tell you, "Hey, this is how we're doing it now", you can reply, based on that, "How is that impacting your ability to achieve X?"
While they share that with you, bring it up on your screen and ask, "So if you can do it this way, how might that impact your ability to do X?
It's a straightforward way to get the information you need as a seller to understand what's happening with them. And another way to give your buyer something they need where they are.
There's a significant movement happening right now called the product-led growth movement. And this focuses on:
Starting with where your buyers are
It's not about you.
It's not about where you need to be and what you need to get
But you do need to be able to build the case for them of why they should change the status quo.
If you immediately shut them down with what they need to get because they have their process, you need to align your process to theirs. All right?
We tend to ask many questions on discovery calls, but are they good questions?
If you follow #buyerfirst or #notaboutme, you're asking targeted questions you have studied, prompting a response from your buyer, which they'll likely find beneficial.
Gong data advises limiting your questions to 11 and 14 per call for non-C-level executives.

However, C-level executives are less patient in answering your interrogating questions. Gong data proposes between six and eight for them.
---

My suggestion: Plan four or five high-level questions and add clarification questions underneath them.

---
Plan and practice them and use them as your guidepost for your discussions with potential buyers in your discovery calls.
Then DO additional research.
Converse with their teams and share what you've learned
Share what outside data also says
Then ask your diagnostic questions from there
Now you can have more useful discovery calls that are:
Buyer first focused
Buyer involved
Value adding
Because you are working with them:
You're not selling to them. You're selling WITH them.
---
Excited about the upcoming Buyer First Book? Get on the list and be the first to know: