The title is a question a new client asked last week. It was such a great question, we decided to explore it further in this week's #livesaleslab. Here is what he is learning:
"At sales kickoff, one of our customers, a SVP, got up on stage and delivered a great keynote about what they are doing and how<our company> is helping them etc. It was the best session of the whole conference - and at the end he made a point of praising his account team - most notably his account director - "He is an extraordinary human being and there is nothing he won't do for you....etc".

I've never heard anyone speak that way about a salesperson(!) but of course I was deeply impressed (and indeed this salesperson is highly regarded internally). This has inspired me to start thinking - what do I need to do in order for my customers to feel this way about me - let alone say it in front of 4,000 people!

From our conversations to date, I am starting to see the type of mindset that is crucial in developing those types of relationships.

My question to you is simply something I just want to get clearer in my head - in terms of account management vs new business selling.

How does this translate for net new business - when engaging prospects for the first time, how does one go about building this trust as you move through the buying journey?"
What's trust got to do with it?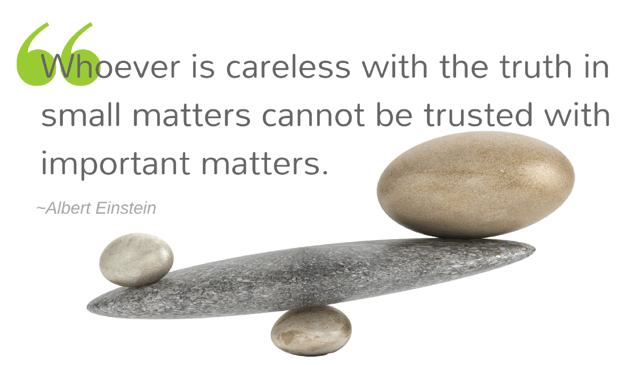 If you look up the definition of trust it's "The firm belief in the reliability, ability, or strength of someone or something."
Now think about what what the customer said about the salesperson in our client's company "extraordinary human being- nothing he won't do for you". So when you are first engaging with someone, it's the little things that start to build, or erode, trust.
For example; if you say one thing but do another- "I will get back to you by the end of the day with ..." and if it doesn't happen by the end of the day- you've lost trust. If you show up late, if you ask questions that are about you, if you go faster than they want to, if you treat people they refer to you poorly or like anyone else ie: not special, you lose trust.
Whether you call it hunter or farmer, the one thing they both have in common with today's buyer is that you need to be consultative. A consultant needs to know what questions to ask to understand what is most important to the buyer. This is why asking layered, baby step questions is crucial.
Trust is a fickle thing, hard to get and easy to lose. And for salespeople, it might seem damn near impossible but there are specific actions that salespeople do that cause distrust. (Which means there are things they should do to build trust.)
Here's a few things that salespeople can do to build trust throughout the buyer journey. Remember, this isn't just something you do once, but every time you interact with your buyer. It's not a persona, or role you play, it must become WHO you are.
LISTEN.

I know this is hammered into salespeople everyday.

Yet according to OMG's research for the "The Trust Project."

it's the number one reason salespeople are losing their buyers trust.

Seek to understand

their world before you try to get them to understand yours

.

Salespeople who don't care about buyer needs more than their own are quickly snuffed out by buyers. It's the second highest reason buyers don't trust salespeople. Ask questions about them- how they got to be where they are today, what they think the problem is, how it became a problem, what they have tried and what they thought of it and why they think it's important to address.

Be proactive

- give them the inside scoop, don't expect to dump a bunch of information on them to figure out for themselves. Don't tell them who to talk to, get that person involved and ready to help them and follow up and make sure that it did happen.

Be cool.

High pressure sales tactics just don't work long term. Buyers are turned off (especially women) and it only proves that you aren't listening and don't understand their world. If you are the one driving the buying process, you haven't dug deep enough to understand why your buyer wants to change their status quo.
Think about how you decide if someone is trustworthy when you first meet them, do they only ask you questions about things they are interested in? Do they talk about themselves and try to impress you with what they have done? Trust is build over a period of time through small actions. It's not a trick or technique, it's rooted firmly in the character of a person.
To learn more, check out recordings from the Live Sales Lab series by clicking below!