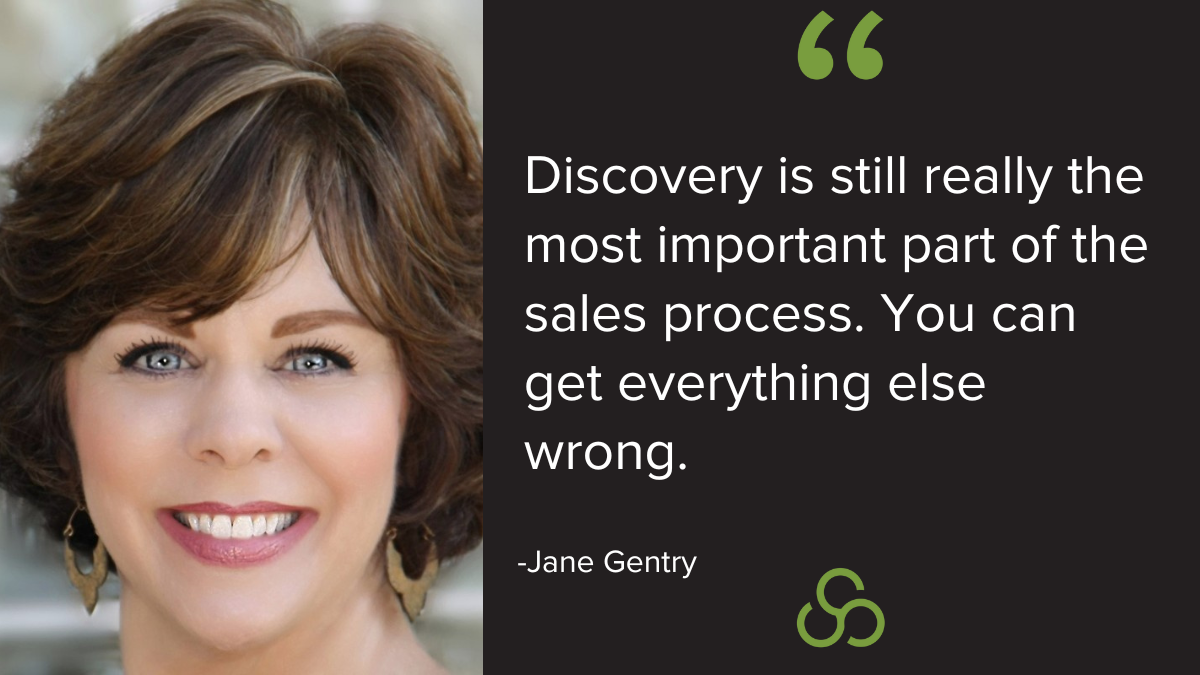 Jane Gentry is an excellent connector with a fantastic set of skills. She's known as the CEO advisor. Jane is a business consultant for small to midsize firms handling everything from strategic growth issues to how we set those strategies. And the organizational alignment to help them grow AND even exit their companies later on.
I was honored to welcome her as my guest at my last Buyer First Ask Me Anything live stream last month. Moreover, I enjoyed hearing about her nightmare buying experiences.
(So, from my perspective, I referred Jane to two of these three companies she will be sharing about. And so when I heard about her buying experience, I was like, I look like an idiot as well for referring her. )
Below is a snippet of our discussion:
---
Discovery is still the most crucial part of the sales process.
You can get everything else wrong.
Because that is also what you and I would think that a company that sells to salespeople CRM software would have an excellent buying experience. And it's not the case. And it's horrifying to me. If it were one, I'd say, Oh, this company needs some training.
And honestly, in my head, the whole time, I just kept hearing,
Please hire me to help you.
Please hire. It's so bad.
Hire somebody if it's not me.
So yeah, that was disappointing. It popped up in multiple places in the process. As I said, if you get that wrong, everything after that is wrong. So, that was the first thing.
The second thing was that there needed to be more communication.
It didn't seem like there was any between the salesperson and the person doing the demo. During the best presentation, the salesperson did the demo.
During the other two, the salesperson did not do the demo. And during this conversation with this salesperson, they keep moving, the conversation. And I keep saying, "Nope, we're not doing that. We're starting at discovery in the sales process. That's where we're starting the sales process. So really, don't worry about this other stuff".
We get to the demo, and where do you think they started? It's like, I never said a word to these salespeople. The demos were, like, canned. And they went so fast. I just wanted to say, Hey, I'm old. My eyes cannot move as quickly as you are.
And it reminds me of years ago I had somebody working for me, and you know, I do many keynotes speaking, and I remember being in the car with her after one, and I'm like, "I am so boring. Oh my God, I am so sick of hearing myself".
---

And she said, "You might be sick hearing yourself, Jane, but for these people, that's the first time they've heard this."

---
So the coaching I wanted to get these people doing the demo was, "Though you do this every day, you need to assume it's my first time seeing your technology."
---
You need to be engaging the customer.
You know you present the best presentations and engage the customer in the demo. For Instance:
Is this resonating?
Are we headed in a direction you care about?
Are these the things you know that are most important to you?
Is there anything you need to catch or understand about what we're talking about?
Also, take some breaks, engage the customer, and take their temperature. And everybody on the call would have given feedback had they been asked to provide it.
That's my point to you about why my frustration level was so high. With one salesperson, I would ask a question, and she replied, "Good question, Jane. And we'll, we'll, we can cover that on our next call".
---

I thought to myself, "This is very southern to say this, but honey, I don't think you're getting the next call."

---
So much presumption all around.
And you know what your mother said about assuming.
So a whole lot of assuming is going on. And that was the experience consistently. So we narrowed it down to two and got to the implementers that don't work for these organizations.
One implementer was an absolute rockstar. He sold that deal. The company we chose needs to give him some commission because he knows sales. He clearly can articulate to a customer why CRM is valuable.
You know what the process is. Give your buyer a comfort level around the integration and what it will take to accomplish an integration using that technology. Making this part of the sales process, a better experience.
---
Excited about the upcoming Buyer First Book? Get on the list and be the first to know: