This year at the Inbound conference, Brian Halligan stood on the stage and said, "The way people buy has radically changed, so the way we sell has to change." (It wasn't that long ago that he said the same about marketing.) Mark Roberge said that the buyer / seller relationship is more like the doctor / patient relationship. Pete Captuta wrote earlier this year about sales people who are able to differentiate, help first- sell second, and publicly share their expertise.
Steve Richards also said at Inbound that in his research that buyers gave sales people a failing score for not knowing enough about them, their problem, their goals, and how the products or services is a real solution for them. So something is clearly broken. Jill Konrath wrote an entire book about how to learn fast and adapt quickly to address this.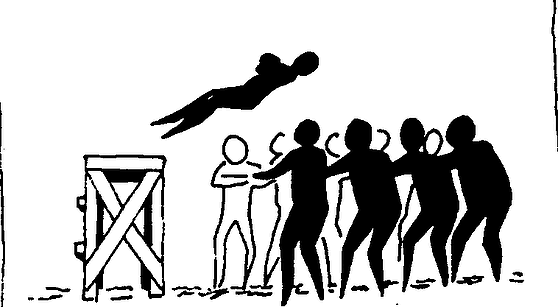 Image credit: Media Bistro
What does this mean for inbound agencies?
Last week while on a call with a Hubspot partner agency, I was reminded of a post I wrote a few years ago on David Weinhaus' blog that was directed towards inbound agencies. At the time it was focused on why sales and marketing alignment is what agencies need to be striving for. But what it was really about was what this agency owner said when they were asked about the results they have been able to get for clients;
"Some get great results, some don't. The ones that are, they trust me, I am able to do amazing things. It's easy to work together, and I can do what needs to get done. Then there are the ones that don't. They don't listen, or take direction, pay me very little, and I am not able to get results for them."
Earlier this year another marketing agency owner told me that they considered trust to be established when someone hires you, or pays you. This same owner was also frustrated by slow sales through lack of a decision and clients who pay late or don't follow their recommendations.
I'm not the only one who has raised this question and see this as a major issues to be addressed. When I came across the RPA study that confirmed my hunch, it made me a little sick to my stomach.
"More than half of marketing executives (56%) say their agencies are more interested in "selling" them their work rather than solving their problems." Oh, but the new hybrid inbound marketing agency is different right? Based on my conversations, they have all revolved around what they agency can charge for a monthly retainer, not a focus on the results they can get for them.
"Marketers and their agencies differ on many basic business goals. While nearly all agencies (90%) say they understand their client's businesses, only 65% of clients agree." (see Steve Richards research noted above)
"Agencies are more likely than their clients to say they understand how to drive sales (84% vs. 56%) and to do a good job of demonstrating ROI (76% vs. 40%)." One marketing agency owner once told me how they increased revenue for their clients and were a positive number, but in reality didn't even know what their clients sales were, where they came from because the client wouldn't share it with them. So how could hey impacted that number? Driving sales needs to be more than a tagline.
"76% of agency executives say their clients are afraid to take risks and are twice as likely as their clients to feel that the best creative can move their businesses (48% vs. 26%)." It's about results, not creative in the clients mind!
"9 in 10 marketing executives (88%) claim to speak their mind freely, even when it's uncomfortable. But among agency leaders who frequently interact with clients, only 36% believe this is true." It is time to start listening better...
Inbound agencies to redefine how they sell, it's not about their results- but their customers. Instead of focusing on the buyer, let's focus on our buyer's buyer.
Do your clients trust you, or just pay you (most of the time)? Are you able to get the results for them that you promised? Can you answer yes to 2 of these business growth questions yourself?