I recently took part in an executive forum with other business owners who were discussing their business growth challenges and how to overcome them. As the chairperson of the group, Don Battis shared with us how being the guy, or gal, who is running the show can be isolating. Sometimes it can be hard talking to family and friends if they don't have to face and overcome the same types of challenges.
During the meeting, two business partners raised an interesting question. How do we justify the cost and stress of growing our business? Outside of money or ego- why do it? World domination?
It's a great question to ask, in fact it might be the best question to ask. Too often as business owners, we focus on how to grow the business, but the 'why' gets forgotten- even though that is what matters more. Many times when we look back at the mistakes we made, it might be because we made a decision for the wrong reasons. Somewhere along the way, we forget why we started it in the first place.
There were a lot of great questions asked by the group, including; are they profitable now, are they at capacity now, do they have the right team in place, what was the market opportunity, how big is the competition, can they grow by being more efficient?
I had met these two business owners before, and remembered what they said when they first told me about what they do and why they do it. They wanted to change the experience that people had when they bought their product. I won't give away too much, but let's just say the phrase "Used car sales man" is how most people describe their industry. When I thought of how they could change that with inbound to help their customers, I knew there was a great opportunity there.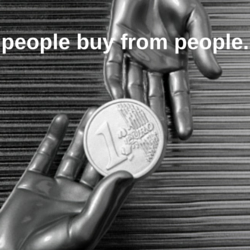 As I sat with them again, I remembered what Don often said "People buy from people." So I asked them, "So you said in the beginning that you've been at this for 18 months and are now profitable. You just went through the first expansion of servicing all the products you sell. The reason you did that was because you couldn't control or change the experience customers had when they needed service because you had to refer that out. You know that word of mouth reputation is everything. So to improve their experience with you, the expansion made sense. Now how does this expansion to another location improve the experience? Is that running and working so well that you getting a lot of referrals and are maxed out? How are you measuring the customer experience now?"
Business Growth Should be About Solving Problems for People
One more story- my first sales and marketing job while I was in college was with a company that created visual analysis software for geologists and hydrographers. One of my first lessons was when Mark, the CTO, and I were talking about upcoming product developments. We didn't talk about what the latest feature that the competition was doing, or what would be most profitable. We did talk about:
The daily work flow of the person who used the product. What they did, how they did it and where. (In this case, lots of scientists were on boats with limited cell and internet access and were running simulations on laptops.)

What problem that person was trying to solve and for whom.

How we could make their jobs easier and save them time and improve accuracy and results.
Mark spent a lot of time talking to support and directly with customers, even going on the field research expeditions with them to experience first hand how they used the software. In his words, "Just because you can code it doesn't mean you should."
Maybe we need to start questioning the definition of entrepreneurship as the two business owners in the executive peer group did. Why are we doing what we're doing? Who are we helping and with what?
Dharmesh Shah calls this solving for humans. This applies to every interaction a person has with you and your company. That is where business growth needs to focus. Not on what you can do to make more money, but on what you can do to make things better. The growth and profit will follow if you can get that right.
Are you starting or finalizing your 2015 plans? Are your goals tied back to a personally motivating reason for you to do it? Do your growth plans solve real problems for your buyer?