Being the oldest of five, I had the fortunate experience of being the first to try things out. Phrases like "I can do it myself!" were common vernacular. To which my Nana and mom would often say "No one is an island, we are all connected. So stop being so stubborn and let someone help you."
I'll admit, letting others help me is one of my biggest struggles. I'm not sure if it is my Irish/Polish stubbornness, my first child syndrome at work, or just that fact that I am a bit of a control enthusiast.
So when I saw Lori Richardson write about who impacted her because she was inspired by Jim Keenan's post, I knew it was something that I wanted to do. That was Monday. Since then I have been nagged by the notion all week. Who has had the greatest impact on me this year? How are they different from all the others who had an impact on me?
There are people like Peter Caputa who not only freely offers feedback and referrals, but understands and believes in the mission to help salespeople improve and who have become among my closest trusted advisors.
And of course there are people like Trish Bertuzzi who are real, smart, and whose level of sass I can only aspire to.
So while the choice of who has had the greatest impact on me in 2016 wasn't an easy one, it was an obvious one.
WHO HAD THE GREATEST IMPACT ON MY YEAR?
WHAT DID SHE HELP ME ACCOMPLISH OR ACHIEVE IN 2016?
One of my goals for 2016 was to be on the sales stage at least four times. I was on stage three times this year. Two of those three were because of Lori.
Another of my goals was to do more guest blogging, attend more networking events and conferences, and collaborate with other sales leaders. I've lost count of the number of guest blogs posts I've been asked to do because of a direct or indirect result of Lori introducing me. I met Deb Calvert and was asked to collaborate in her sales experts community because of Lori. And when I went to events that Lori suggested and was at, she introduced me to everyone she knew.
WHY WAS THIS ACCOMPLISHMENT SO IMPORTANT TO ME?
The hardest part of any transition is not knowing anyone and therefore not knowing who is real and trustworthy. The other challenge is that no one knows you either. And so when you move to a new area, the people who introduce you to the leaders in the community and say "You should know each other." are priceless.
When I first struggled with the notion of making the transition from marketing agency to sales coaching consultancy, Lori was one of the first people (outside of my business partner) to tell me to go for what I believed in. And she was more than a cheerleader, she took action and became a team player.
WHAT DID LORI DO TO HELP ME ACCOMPLISH THAT GOAL?
Lori recommended me to speak for AA-ISP Unite conference in Vegas.
She asked me to lead the sales leadership roundtable for the Rev-It Up Sales Leader Summit in Boston.
She attended and helped to promote my #inbound16 session.
She sponsored me into a group of strong and smart sales leaders that are open and collaborative, and who continue to help and challenge me. The picture below is just a few of them. (And all of them are welcome to stay at the Maine lake house with me!)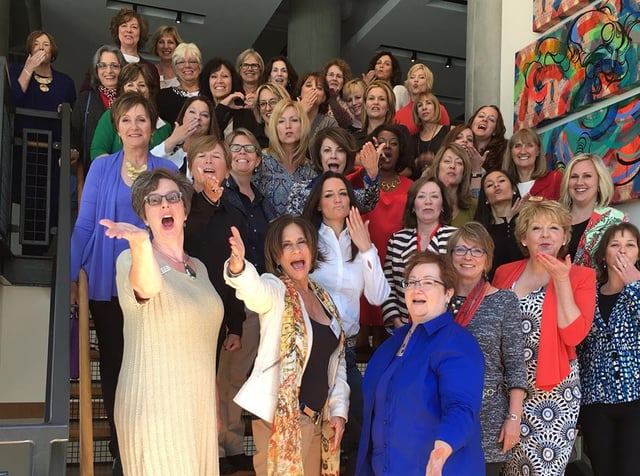 HOW DID LORI'S SUPPORT MAKE A DIFFERENCE?
These are just the things that Lori did to help me in the past year alone. The difference it has made is hard to describe. It's more than just a network of connections, she has helped me to expand my support system. She has given me a new perspective on myself.
WHY I AM SO THANKFUL FOR HER SUPPORT?
Lori has no vested interest in my success, she gains nothing from it. But she is a connector of people and ideas.
HOW IS MY WORLD DIFFERENT TODAY BECAUSE OF LORI?
Lori has described herself as a reluctant leader. But what she might not know is the quiet, but powerful, impact she has on others. She has been relentless in her belief in my potential to help change sales from the beginning and that has helped me to stand up a little straighter and jump.
WHAT DO I WANT TO SAY TO LORI, THAT I HAVEN'T ALREADY TOLD HER?
This morning as I was singing in the shower to the song FourFiveSeconds (Spotify played it, definitely NOT my usual style), there was a line in it that struck me: "All of my kindness is taken for weakness." and I knew I had to write this post, because that is Lori. Kind- but that is what makes her one of the strongest people I know.
WHO WOULD I LIKE TO SEE SHARE WHO HAD THE MOST IMPACT IN HIS OR HER LIFE IN 2016?
People sometimes tell me how I have helped and inspired them, and that makes it all worth it. I would love to know who had the greatest impact on Anthony Iannarino.
If you have read this, I challenge you to do the same. Gratitude is an important mindset in sales. Recognizing and sharing who has helped you is one way to develop your mindset. Whether your year has been up, down, or flat, someone has helped you and made a positive impact. Pay it forward, write your own #HelpedMe2016 and share it with them by answering these questions that Keenan put out in his original post.
WHO HAD THE GREATEST IMPACT ON YOUR YEAR?
WHAT DID THIS PERSON HELP YOU ACCOMPLISHMENT OR ACHIEVE IN 2016?
WHY WAS THIS ACCOMPLISHMENT SO IMPORTANT TO YOU?
WHAT DID (FILL IN PERSON'S NAME) DO TO HELP YOU ACCOMPLISH THAT GOAL?
HOW DID THIS PERSON'S SUPPORT MAKE A DIFFERENCE?
WHY ARE YOU SO THANKFUL FOR THEIR SUPPORT?
HOW IS YOUR WORLD DIFFERENT TODAY BECAUSE OF THIS PERSON?
WHAT DO YOU WANT TO SAY TO THIS PERSON, THAT YOU HAVEN'T ALREADY TOLD THEM?
FILL IN THE BLANK: I WOULD YOU LIKE TO SEE "BLANK" SHARE WHO HAD THE MOST IMPACT IN HIS OR HER LIFE IN 2016.