Two things happened last week that inspired this post.
First, on my regular run down the dirt road and wooded trails by my house, I got the closest I have ever physically gotten to a deer. I was less than 20 feet away from an adolescent male. He was already getting big and I could see his antlers just starting to come in. He will be an impressive buck!
I would have used my phone to get a picture so that others would believe me. But I didn't take the picture because I knew from experience that any change in my movement or speed would scare him off.
So I continued to maintain my pace as I approached him. He didn't move for at least 30 seconds as I got closer. He was staring at me, I was staring at him. I was amazed that he wasn't frightened off.
Then, I started to get a little excited and was imagining images of me feeding Bambi out of my hand. No sooner did I entertain the thought that he turned his head slightly and was off. I realized, too late, that my pace had changed as I got closer. In my excitement I sped up. I didn't even know it until I saw his tail taking off in the woods.
This happens to sales people "following up" on inbound leads every day. So how do you engage inbound leads without using the sales tricks that they can smell a mile away?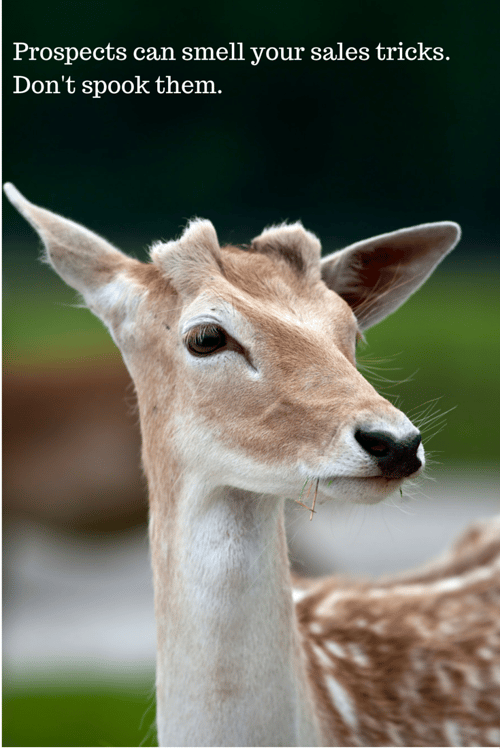 Hi. Now what?
Mark Roberge, Hubspot CRO has suggested that unless you are getting over 100 inbound leads a month per sales person- you don't really need automated workflows. You should be contacting each one personally. In fact, if you download anything from my site the only auto email you will get is, "Did it download okay?"
Here's why:
As soon as you even hint at your solution, they smell the sales pitch coming and put up a wall, give you wide berth and don't respond to your email and you are left thinking "Inbound leads suck."
They don't suck, they just don't want to be sold to. One way to make sure you aren't selling, but helping, is if you start with the open information that both you and the other person knows. In the case of the download, the only thing that you both know is that they tried to download something.
If you follow the rules of inbound engagement, take baby steps with prospects, it will help to prevent you from moving too fast and scaring off the prospect like the deer in the woods.
Here is a recent real life example from someone who downloaded the collaborative eBook- How to Use LinkedIn the Inbound Way.
Brett,
Sincerely,
Carole
___
Carole,
Yes, Thank you.
Brett
___
great! how did it come across your radar?
___
I believe I saw a link to this training from Hubspot. I have been doing a lot of research on Insidesales.com and Salesforlife.com.
On a side note, how is the weather in Shapleigh, ME. I have a camp in West Newfield not too far from you.
Thank you for the information,
Brett
___
No kidding- small world! We are MA transplants (Beverly, Wilmington) now in North Shapleigh on Granny Kent Pond- right on the Newfield line. Black flies are out, flowers are blooming, boats are in, and the garden is planted. Life is good. If Newfleld is camp, where is home? (Is Newfield the background on your LI profile pic?)
What have you been researching on insidesales and salesforlife?
___
Yes, it is a small world. My wife and I are also MA, transplants from( Beverly and Saugus). We live in East Kingston, NH but spend most of our weekends at the lake house on Mirror lake in West Newfield, ME near the Applegate Deer farm. And yes, Newfield is the background for my LI profile picture.
I have been in sales for over 15 years but knew to XYZ. XYZ has a great training program and part of the focus is on social selling and optimizing your LinkedIn profile. So, I have been trying to pick up as many tricks and different approaches I can.
___
Yes, you are about 10 min from me, I drive by Applegate to get to Moulton's Lumber. July 4th is a big party weekend here...
___
Awesome,

July 4

is also a big party for us. Did you or your husband graduate from Beverly High School. I was class of 1992. Maybe I will see you around town.
Hey, what is your LinkedIn email address, I would like to connect with you?
Pete Caputa, the VP of Sales at HubSpot, asked if my auto reply email got responses. In the past week, the eBook has been downloaded 15 times. Of those 15, 12 responded and we have had a similar exchange by email.
Do you think it works? Would you like to be able to do this yourself or wish your team could? Or, if you are a marketing agency, do you wish you were able to help your clients do this with the inbound leads you are helping them to generate?
Learn more sales tips, techniques and coaching like this in the #livesaleslab recaps!