How do you know if coaching will be worth it?
My husband and I were watching the Women's Olympic Trials when he commented "Wow, what they can do is amazing. How do they make it look so easy?!" To which I replied, "They live and breathe this- day in and day out, for years. Just to get to this moment. That is the amazing part." Almost as if on cue, the program showed interviews with the moms of those who tried out. One mom said, "She has given up so much for this. Friends, prom, you name it. I am so proud of her."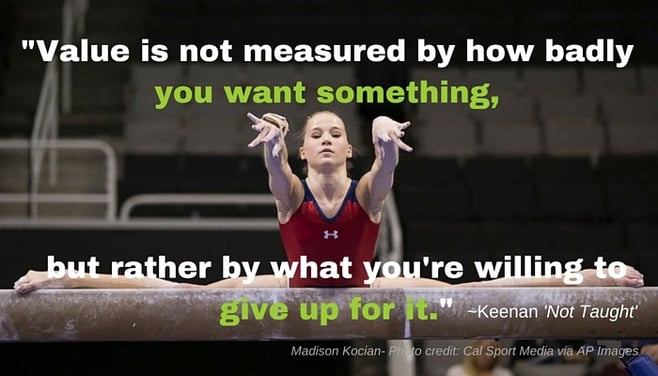 Sales coaching might be one of the hardest, but most rewarding, things that you can do for your career. It is time intensive, personally probing, and not inexpensive. This is why having a personally meaningful goal is so crucial to the process. We all want something. But what is that worth to us? What aren't we willing to give up? Our preconceived notions of ourselves? What we think we know? Our 'free' time?
Anything is possible with enough time, money, and the right attitude. The simple definition of value is an amount of money something is worth, what something can be bought for, or it's usefulness or importance. So when it comes to sales coaching, what is your goal worth to you? How much will it cost you in time and money?
Assign a value to your goals
Goals are a difficult thing for a lot people. Sometimes, setting goals is daunting because we aren't sure what is possible and don't want to disappoint ourselves or others by setting too big of a goal. Sometimes we need a coach to help us see what we can't see in ourselves.
There are two types of goals:
Intrinsic:
Prove someone wrong

Strive for mastery

Be an example
Even though intrinsic goals are intangible, you can still assign a value to them. For example, if you are able to get X more customers- will that prove to you or something else that you are an entrepreneur? If you are at the top of your team, will that prove that you have mastered your craft? If others look to you as an example of success because you rose from 0 to a millionaire, isn't that a tangible measurement?
Extrinsic:
You could argue that extrinsic goals are the outward reflection of an internal goal.
If you are like me, big houses and fancy cars aren't worth trading time with my family for. Proving others wrong, mastering my craft, and being an example others is however. However, my family wants things for themselves, so even though I don't feel the need for things- what they want is motivation for me as well.
Does your goal outweigh the cost of achieving it?
The cost of sales coaching varies depending on the coaching process. (Just as the results will depend on the process.) How the cost is structured can vary as well. Some may charge an hourly rate anywhere between $150-250. Others may charge a flat monthly rate starting at $750 up to $2,000 per month. Some may charge a flat monthly rate or a % of new sales- whichever is greater. (We follow the latter.)
The decision you have to make is if your goal is greater than the cost to achieve it, and if the coach you hire has a proven track record of helping others achieve similar goals.
How much time do you need for sales coaching?
The coaching process is not just the amount of time that you spend with your coach, but also the work you need to do on your own. Here's a breakdown:
Goal setting: 2-4 hours. This includes talking with your life partner, or others close to you about what you hope to achieve. It also includes time to put your goals down on paper and assigning a dollar amount to it.
Calls: up to 4-5 hours per week. This is time on the phone with your coach for strategy, debriefing, role playing, and other tactical learning.
Email: up to 5-10 hours per week. This will depend on the number of conversations you are having with buyers and where they are in their process. Getting feedback from your coach on your email communication, crafting and editing those emails will probably be the majority of your time thanks to the way communications are changing.
Content creation: 4-6 hours per week. Whether you are creating blogs, a podcast, or videos, you will need time to create content to establish your thought leadership, be credible online, and accelerate your learning. (I highly recommend reading Keenan's book Not Taught for more on this.)
How much time and money are your (or your loved ones) personal goals worth? Are you wondering what might be possible? Still on the fence as to whether or not sales coaching is right for you? Not sure what questions you should be asking? Download the complete eGuide: "Is sales coaching right for you?" and get questions you need to ask yourself, a potential coach, and determine if you are ready to be coached.