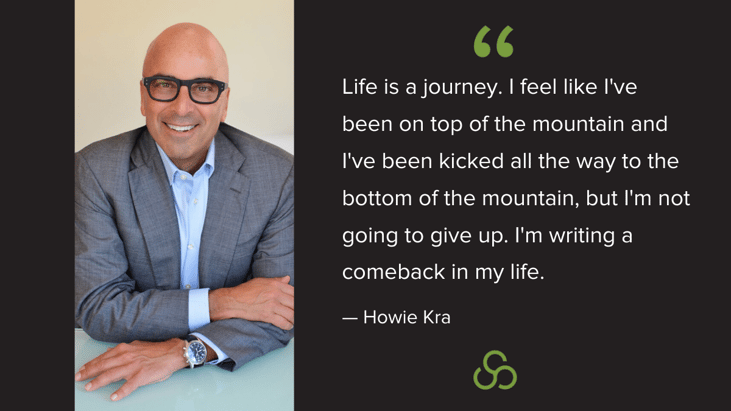 Howie Kra is a dynamic entrepreneur who has been inspiring people, driving revenues, and providing sales leadership for nearly 30 years.

Through his unique professional and personal experience (including being run over by a bus!), he motivates and inspires people to be resilient and overcome any challenge or obstacle life throws their way.
Speaking of, what lessons can salespeople take from Howie's resiliency? Find out in this clip!
Carole Mahoney: I'd love to talk about resiliency. What led you to focus there now?
Howie Kra: Life is a journey. I feel like I've been on top of the mountain and I've been kicked all the way to the bottom of the mountain, but I'm not going to give up. I'm writing a comeback in my life. I'm back in a role that I love as a national sales director for a big CBD company, health and wellness, but at the same time, I'm working on my own brand, Howiedoinit.
Howiedoinit is all about resiliency. You see, you could get run over by a bus and you can listen to doctors tell you, "You'll never walk again," or you could go run marathons and you can do triathlon. You can do anything you want to do within reason, if you put your mind to it.
Life has thrown me some unfortunate curve balls. I mentioned I worked at Lehman brothers. I had a lot of my wealth there. You know what happened? It went away. It went dead. I couldn't get that back. There are things that happened that was so out of my control so I could sit around and lament about them or think about what should've or what. No, that's the past. I can't be too worried about the future. I got to live in the present and what I learned middle age is just a lot of people who have been displaced.
Technology has taken away jobs. Things have changed. Companies that once existed Google, Amazon, they weren't around for when we were at that age. Things change. We have to change and I feel like I have the energy, the motivation, the will, so I want to share it with people. That's what Howiedoinit is all about. It's about resiliency, about life. It's about getting knocked down, picking yourself up and moving forward and going to higher highs, and the things that were important back then the materialism, the Wall Street, it's not important anymore.
What's important is having purpose. Purpose is so important. Enjoying what you do and then sharing it with friends and family and Howiedoinit is really cool. I'm enjoying it. Thanks for having me here.
Carole Mahoney: Awesome. I love it and I for certainly will make sure that everyone has a link to your Facebook page so that they can see your daily... How many days is it now in a row that you've been doing your Howiedoinit mornings?
Howie Kra: That's the thing with discipline and when I say I'm going to do something, I think today was day 166. Every morning, regardless of where I travel, I'm on at 6:55 AM on Instagram and then I go to seven o'clock at Facebook. To me, it's just natural. But, when I think back on it, 166 mornings I get up, I prepare, I research, I travel a lot. If I'm in LA, I'm on at four o'clock. If I'm in Denver, I'm on at five o'clock and it's cool.
The community's growing and it's really great servicing and helping others. It's really enjoyable. What works for me, I'm getting a lot out and I'm helping others. It's a journey and the journey is it's treacherous and things happen that we don't ever imagine. But, we got to make the best of it because we're here, we're healthy and we have an opportunity to lead a great life.
Carole Mahoney: It's awesome.
Howie Kra: Just think positive.
Carole Mahoney: Thank you so much for that and for everyone who's listening (or reading along), definitely check out your daily dose of inspiration with Howie Kra Howiedoinit. We're going to have links to Howie's website. I think you're going to a podcast that you're going to be doing in a relatively short order, so all good things happening. I can't wait.
Howie Kra: I can't wait to have you on it. We're going to be launching in a couple of weeks and I'll get back to you for a date. I would love to have you on because I could talk about selling all day because to me, life represents selling and selling is life. If you're in sales, as you and I have talked, be proud of it because we are the engines that drive the growth of companies. We are the ones that are needed.
They say sometimes the sales people make more than the CEOs. Well, not really with the public companies anymore because those people just make astronomical money. But in the real world, middle market companies, it happens all the time. Whatever it is, whatever you're selling, love what you selling or don't sell it. Find something you love because passion sells.
Carole Mahoney: Absolutely and like, I love to say to people, sales like money, talking about money has a stigma to it and I want to change that negative perception because I totally believe that sales in its truest form is identifying problems and solutions and making the connection between the two.
Could you use more tips from Howie?
Check out Howie's website and social media accounts learn more!
If you'd like to watch the full on demand webinar of What Sales Can Learn From A Wall Street Investor, click here!