This will be my 7th year in a row attending the Inbound conference. The fact that it is somewhat local for me has something to do with that, but it has more to do with a cosmic alignment of mindsets that keeps me coming back year after year. And like the conference (and HubSpot the company) itself, I have changed.
In my previous life as a marketer and then inbound agency owner, it was all about the marketing. Then it became all about the sales.
But it has never really been about inbound vs outbound for me, it's allbound. It's all about whatever it takes for growth. No matter what the original source of your leads are; trade shows, referrals, advertising, online search, or social media, people are going online to find out more about your, your company, and your offering. (Is what they see online match what the experience offline?)
With that in mind, here are the sessions I have put in my agenda for #Inbound15:
SALE IS A LOVE AFFAIR - SEDUCE, ENGAGE & WIN CUSTOMERS' HEARTS
HACKS TIPS & TRICKS
Wednesday, September 9 | 10:30 AM - 11:15 AM
|
All Levels | Executive, Marketing, Sales
The top salespeople in any industry are loved by their customers. They build a deep, human connection that parallels finding love, falling in love and growing a trusting, romantic relationship. The mindset is actually a heart-set. It focuses on pulling customers through their purchasing cycle, not pushing them through your sales cycle. Jack uses stories and anecdotes that make eye-opening links between romantic relationships and complex sales. It's all about attracting early on and building trust at every step. Keep it simple in marketing. Go deeper in sales. Love more. Sell more.
(I've been saying for a while now that sales is a lot like dating. It will be fun to hear it from the male perspective!)
7 SALES DEVELOPMENT HACKS TO JACK PIPELINE
HACKS TIPS & TRICKS
Wednesday, September 9 | 11:45 AM - 12:30 PM
|
All Levels | Executive, Marketing, Sales
Sales Development has become the secret sauce that fuels the revenue engine. In this session Trish will share 7 SDR hacks ranging from process to technology that you can take back and implement immediately.
(Trish is one of my favorite sales leaders to follow. Her golden nuggets of wisdom (Trishisms) make my laugh out loud and think with a new perspective. Check out my introduction of her.)
THINK BIG, ACT BIGGER: THE REWARDS OF BEING RELENTLESS
IDEAS & EXPERIENCES
Wednesday, September 9 | 4:45 PM - 5:30 PM
|
All Levels | Executive, Marketing, Sales
Based on the book from Jeffrey Hayzlett and Entrepreneur, comes Think Big, Act Bigger: The Rewards of Being Relentless. The book, and the program, is a take-no-prisoners, no BS, attitude adjustment for those of us who call ourselves entrepreneurs. Following the success of my prime-time show C-Suite With Jeffrey Hayzlett, companies and events always want to know what is the secret behind the success of entrepreneurs and executives who can move mountains. Whether it is fear or doubt or something else, the most dangerous move in business is the failure to make a move: The history of business is filled with companies that no longer exist because their leaders refused to enact change when the writing was on the wall. Kodak thought it was still in the film business and ignored its own work on the digital camera. Blackberry thought its proprietary communication method could stem the need to innovate. Oldsmobile just got old with its customers and when they started to die, so did it. That's the difference between "Thinking Big" and "Acting Bigger" and what Think Big, Act Bigger means: knowing how to tie visions to actions and getting beyond limitations, preconceived notions, structures, and differences and delivering for the future. That's leadership. That's what is going on in the most successful C-Suites across this country.
OPTIMIZE ME: INSANELY MORE PRODUCTIVE SALES STRATEGIES
JILL KONRATH
|
Author, Speaker, Sales Accelerator
,
JILL KONRATH, Inc.
IDEAS & EXPERIENCES
Thursday, September 10 | 11:45 AM - 12:30 PM | All Levels | Executive, Marketing, Sales
Do you feel like you're always busy, yet never getting enough done? In this much-needed session, you'll find out why your current way of working actually fractures your focus, stresses you out and impedes your success. You'll discover potent research-based strategies and rock-solid action steps to boost selling productivity and escape the busyness trap. As a bonus, you'll also activate your best thinking—which leads to faster sales cycles and more closed deals. Mastering these new strategies is crucial for sales success and sanity in the Age of Distraction.
(Jill really helped give me the kick in the butt I needed last year to get my first book done. Her last book, Agile Selling is worth a serious read.)
HOW TO READ A PERSON LIKE A BOOK
IDEAS & EXPERIENCES
Thursday, September 10 | 1:30 PM - 2:15 PM
|
All Levels | Executive, Marketing, Sales, Services
Personality differences: they are what make life so rich and fascinating and often so frustrating, too. Most of us never figure people out. We just ricochet through life, getting along with some people and dealing as little as possible with others because they are so different from us. Once you learn how to read people like a book, you will be able to build bridges to people of any style in any personal or business situation.
(My motto is "It's not about you." and having heard Tony speak on this before, I know that this session is perhaps the most useful way to help learn how to build rapport with people quickly. Do not miss this one.)
SALES AND MARKETING ALIGNMENT – DON'T LISTEN TO THE MARKETING CONSULTANTS
HACKS TIPS & TRICKS
Thursday, September 10 | 3:45 PM - 4:30 PM
|
All Levels | Executive, Marketing, Sales
The common terminology being pushed by marketing consultants with regards to sales and marketing alignment consists of words like marketing qualified leads, sales accepted leads, service level agreements, waterfall diagrams and marketing contribution to revenue. If this is how B2B marketing performance is measured, CMOs are heading down a path of conflict with their sales counterparts and poor business outcomes. Bryan Semple, CMO of SmartBear Software, walks through how he aligns his entire organization with sales and revenue, how the process is measured, and the terminology and nomenclature used to discuss success and failure.
(Sales and marketing alignment is still a struggle for many organizations. Bring your sales/marketing counterpart to this one and get the conversation started.)
SOCIAL SELLING: HOW TO CONNECT WITH THE MODERN BUYER
HACKS TIPS & TRICKS
Thursday, September 10 | 5:00 PM - 5:45 PM
|
All Levels | Executive, Marketing, Sales
It's not just who you know, but what you know about who you know. Leveraging Social Networks like LinkedIn, Twitter, and Facebook, you can get inside the head of your buyer, learn what makes her tick, and understand her priorities before your first email, tweet, call, or meeting. Social Selling is about finding and being found. It's the practice of using social as an additional channel to do research, to be relevant, to build relationships that drive REVENUE.
(Jill is the social selling queen. She just gets it. Another one to add to your do not miss list.)
CREATING LEGENDARY BRANDS: A BUSINESS PROCESS TO ALIGN METRICS, CUSTOMER EXPERIENCE AND PROFITS
IDEAS & EXPERIENCES
Friday, September 11 | 10:30 AM - 11:15 AM
|
All Levels | Executive, Marketing
In this motivational but practical presentation you will learn about Buyer Legends, a business process that uses storytelling techniques to map the critical paths a prospective buyer might follow on her journey to becoming a buyer. You will learn how this process aligns strategy to brand story to the buyer's actual experience on their customer journey. Discover how these easy-to-tell stories reveal the opportunities and gaps in the customer's experience within the current marketing & sales process. Learn how these legends communicate the brand's story intent and critical touch point responsibilities to your entire team, within every level of an organization, from the boardroom to the stockroom. Business executives, business owner and marketers will delight in how Buyer Legends reconcile the creative process to data analysis; aligning metrics with previously hard-to-measure marketing, sales, and customer service processes. Buyer Legends deliver quick and tangible results. The first result is improved execution, communications, and testing. The second result is a big boost to the bottom line.
(Bryan was a major catalyst for me early in my career. I spent my first consulting check on a trip to NYC for a workshop with him. One of the best things I ever did. Add him to your do not miss list.)

THE RULES OF ENGAGEMENT FOR INBOUND SALES
HACKS TIPS & TRICKS
Friday, September 11 | 12:45 PM - 1:30 PM
|
All Levels | Executive, Sales, Services
So many inbound leads, so few inbound sales people. What's an inbound buyer to do? What's the secret to creating, approaching and nurturing your inbound leads into customer evangelists? How should salespeople nurture and follow up with leads the inbound way? Join other salespeople, sales managers, and executives who are looking to convert more inbound leads into customer evangelists with some of the simple secrets of inbound engagement. Discover what questions to ask to go from download to customer evangelist with an easy to remember buyer focused process. Take away tips that you can start using right away with the leads you have coming in right now.
(For sure you know I will be at this one.)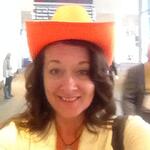 What's on your agenda?
Which one do you think I should add to mine? Still haven't registered yet? Do so now and use my speaker code CM2015 for 25% off. (Prices go up again 8/31)
Want to meet up in real life? Join me at any of these sessions, or find the orange cowgirl hat and flag me down.
Of if you prefer to get away from the crowds for a coffee or a drink, email me directly at e@carolemahoney.com and lets set up a time and a place!