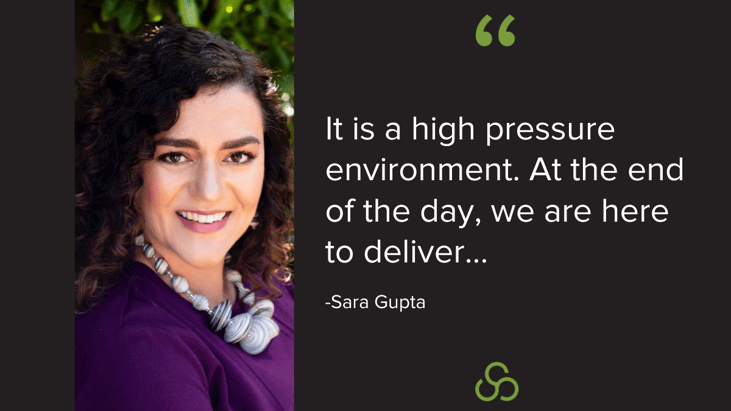 We all know that making mistakes isn't fun and that owning up to them can be even more nerve-wracking than realizing you made the mistake in the first place. But rather than quickly owning up to a mistake and moving on, why do so many people try to cover it up?
Learn what Sara Gupta, VP of Sales at Amperity, has to say on this topic.
Carole Mahoney:
So why do you think... back to the subject of failure... that so many sales people hide or try to hide the fact that they've flubbed up, that they've made mistakes?

Sara Gupta:
Yeah, I think it's a great question, and I think, one, there's a lot of longterm cultural beliefs around that methodology and approach. It is a high pressure environment. At the end of the day, we are here to deliver and I think it's a good segue into some of where I have struggled particularly earlier in my career was it's easy to succumb to the pressure and it's easy to want to be the best, everybody wants to be the top seller and everyone wants to be the best top sales manager. Everyone wants to be top of the leaderboard. You don't really do this work if you're not competitive and a high performer inherently. What we need to allow and what took me some time to see is that there's a more human way to do that.

We need to measure the metrics and we need to find the things that motivate people, and so I guess kind of speaking to that is, what I have learned is that doesn't necessarily mean that you can't be human in that and that actually you can drive better results and more job satisfaction, higher amount of loyalty, commitment, higher level of consistency if you create an environment by which the sellers feel supported and feel like they have a soft space to land should they fail.
And it took me a long time to get there. I was the same exact way and still of course am balancing that grit and that tenacity against being open minded and supportive. It's a very mindful thing that I do on a daily basis to remember the show up that way.

Carole Mahoney:
It's not something that you're all of a sudden you wake up one day and this happens, and that once you've done it, it's forever going to be that way. That's just not how us human beings work. If it were that way would there would be no such thing as gyms and weight loss programs!

Sara Gupta:
Right!
Stay tuned to learn more!
In the next clip from this series, learn what Sara's biggest fail what as well as what she learned from it. And don't forget to subscribe to the Unbound Growth Youtube channel to watch more clips like this.