There was a recent conversation happening among sales leaders, managers, and representatives around the question "Does mastering the fundamentals lead to improved sales performance?"
No surprise that the answer was yes, of course it does. What did surprise me, no, irked me, is that the majority of the answers were about skills, methods, tactics, process and methodology. Some answered that great listening skills are fundamental. Others talked about prospecting and qualifying, others even talked about CRM tools. Because I was irked, I did some more digging and Googled "fundamentals of sales". Same result. Lots of posts about customer focus, optimism, prospecting, qualifying, etc…
Not the fundamentals at all. No wonder 52% of salespeople can't make their quota when the sales community itself can't even agree on what the fundamentals actually are!
If you look up the full definition of fundamental, as I did, the Webster dictionary says :
"serving as an original or generating source"
"of or relating to essential structure, function, or facts, of or dealing with general principles rather than practical application"
"of, relating to, or produced by the lowest component of a complex vibration"
"belonging to one's innate or ingrained characteristics"
Or as Dictionary.com stated "a basic principle, rule, law, or the like, that serves as the groundwork of a system; essential part"
So if we go by these definitions fundamentals is the foundation and origin of a skill or system, not the skill or system itself. Here is the problem- when the discussion was brought up, the majority of the answers from sales leaders and manager talked about skills and competencies, the end result, not the foundation of what creates those skills and competencies.
Don't mistake me, all these things are important. But they are not the fundamentals, they are not the unchanging foundation of what makes a great salesperson.
What the fundamentals of sales really are.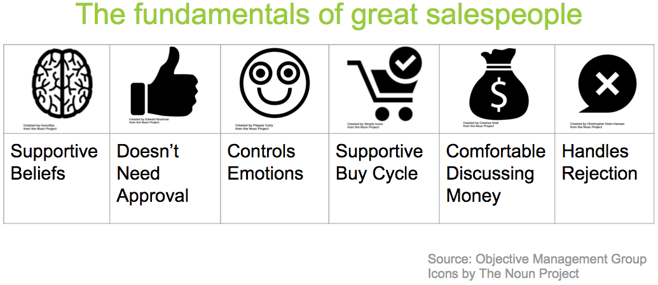 Sales fundamentals are about mastering the mindset that allows a salesperson to learn any skill, methodology, tool and buying process so that they are relevant, transparent, and more helpful to the buyer than their website is. Fundamentals comes down to:
Are the fundamentals only for new salespeople to learn?
Unfortunately, no. We have worked with veteran sales people and new sales people alike, and they struggle with these same fundamentals. Just because you have been selling for 20 years, doesn't mean you have mastered these fundamentals.
In fact, research from the Objective Management Group of over a million sales people, across the globe and all industries shows that only 6% have mastered these fundamentals and resulting skills and competencies, whereas 20% do ok but could improve. Of the remaining 74%, 25% shouldn't be in sales at all because not only do they not have the fundamentals and skills, they aren't coachable or trainable either. That leaves 49% that could improve with work because they are trainable and coachable.
Now consider how much sales has changed (not changing, not on the verge of, but CHANGED) as a result of the informed and empowered buyer. We are all new salespeople in the age of the buyer.
If you want to improve sales, improve the salespeople. Starting with the fundamentals. Shiny new technology and fashionably designed processes and methodologies won't (aren't) going to do it alone.
Which percentage do you fall into? Are you part of the 25% who would be better of doing something else, or the 49% that could improve? Could the next 30 days be the start of something extraordinary?